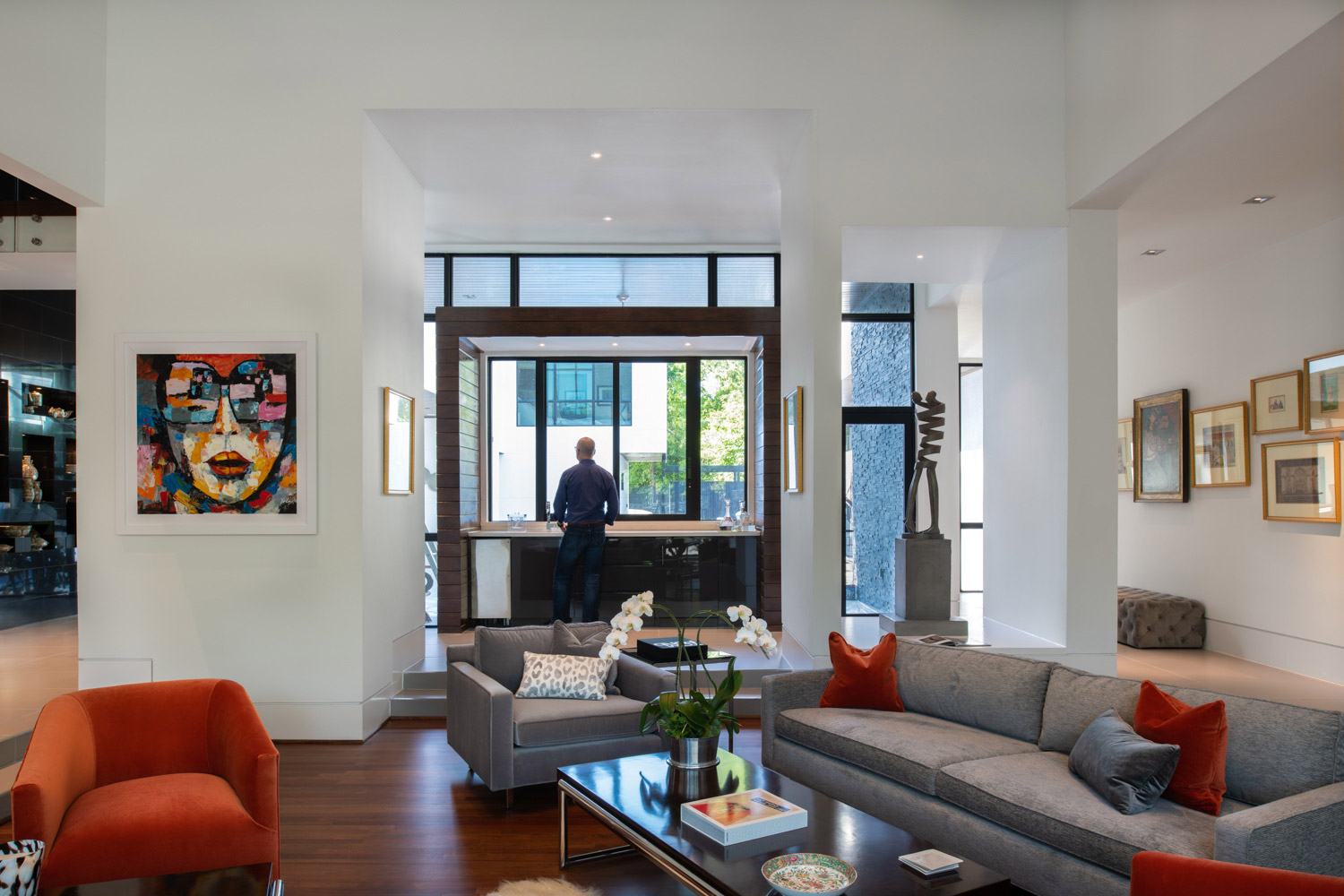 Situated on a modest lot on one of Houston's well-known streets, Memorial Drive, this home is a modernist intervention in an otherwise upscale but very traditional neighborhood. The challenge of this lot was to design to minimize eastern and western sun exposure while opening the house up to the very even and excellent ambient light from the north and to the south, where overhangs could provide protection from the elements while the windows could be sized to maximize the view to the pool and surrounding tree canopy. Our solution was to devise a series of overlapping volumes by utilizing the forms of open ended boxes to block the east and west sun while opening up to the greatest extent possible, the northern and southern sides. These open ended boxes overlap each other and float apart at other times. The play of volume and material wrapping create dynamic spaces that expand both horizontally and vertically as well as enhance the perception of depth from both outside and within the house.
The layout of the residence on the property is designed around the idea of courtyard. The processional entry for guests is accentuated by an entry courtyard that incorporates both hardscape and landscape features that engage all senses. The sounds of leaves rustling in the breeze are evident and provide an audible link to the towering pines, oaks and elms so prevalent in this region of the country. The subtle scents from the aromatic native flowering plants and herbs remind guests of the southeast Texas heritage that Houston is built upon. Water from the single-blade fountain continuously cascading into the shallow, river rock lined basin, washes out the sounds of passing vehicular traffic along memorial, retaining your attention to the courtyard experience. Shade is created to mitigate the harsh summer sun by a long covered walk that extends from the west side of the entry courtyard to the east side of the house. In utilizing natural or earth-based materials such as granite, stucco, Ipe, other natural woods, and slate; we are able to appeal to the sense of realness. We believe that it's important that materials keep us in touch with reality. We believe that architecture is a sensory experience and that the materials are meant to be touched. In doing so, the textures and the perception of temperature convey truth in materiality.
The concept of courtyard continues as a private experience within the internal zone of the residence. The house wraps an "L-shaped" pool and pool deck on almost all sides and creates a new sense of place and space bounded on all sides by the towering surrounding tree line. Considering that much of the purpose of this residence is designed around the notion of entertainment for friends and family, these courtyards as well as the main house itself, provides multiple experiences within one house that reflects the multiplicities of the personalities of the owners.